Melonheadz Illustrating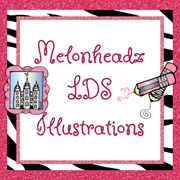 This site has FREE LDS and Christian illustrations,
primary hand outs, Bible Journaling, and links to sets to purchase!
Have you heard about Teachers Pay Teachers (TPT)?
TPT is a site where teachers create materials for the classroom, and sell and share with other teachers all over the world!
It's an amazing, site, and it has changed my life.
You can visit TPT by
Or you can visit my TPT shop by
Be sure to follow me there, where you can get 20% off every new set I post for a limited time!
You can also grab the exclusive free graphics and coloring pages I post there.
Here are a few examples of what you can find in my TPT shop:
AND........
Teacher's Notebook is another site where I am lucky enough to sell
my images to be used in schools all over the world!
You can visit my Teacher's Notebook shop by
On Teacher's Notebook, I offer single image sets only.
One image, colored in 11 different colors, at a GREAT bargain! Super cute
sets like these:
AND...........
To go to my Etsy shop, "MelonheadzClipArt"
You can grab some super cute graphics like these!
AND.....
Be sure to follow me there, so you'll know when I'm having a Sale!!!
xox
Nikki